This article will show you the basics of navigating the orders page. You will spend the majority of your time in SmartShyp on this page managing your orders and getting all of your shipments ready to go.
You can Access the Order Management screen easily from the Dashboard when you first log into your SmartShyp account.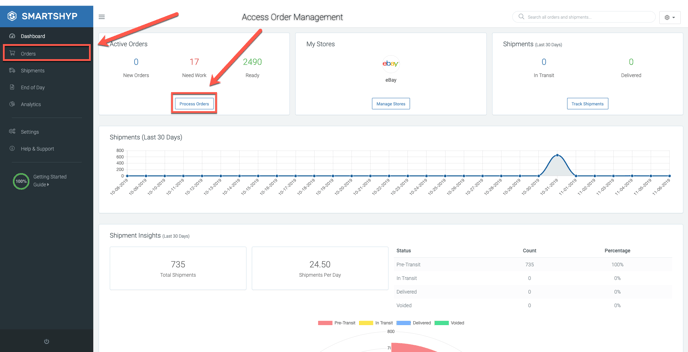 The Orders page is where you will prepare and manage all of your orders/shipments before label creation. You can manually add an order, import a list of orders from a CSV, or import orders from any connected seller channel or marketplace that you have integrated.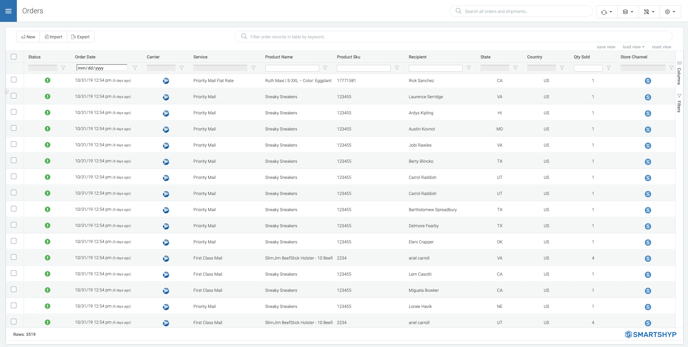 Click "+New" to create a manual shipment.Learn more
Click "Import" to select a CSV file with a list of addresses or orders. Learn more
Click "Export" to download any information you are viewing to a CSV file. Learn More
Click " Viewing Dates" to do a date range query for orders you want to see. Learn More
1. Universal Search
Search for "Orders" or "Shipments" regardless of where they are in the App. The "Universal Search" is available on all pages and makes it quick to access the info you need fast.

2. Refresh Stores
You can manually refresh a store import to check for new orders. You can also back up the import date to check for any orders that might not have imported. This is quick access for initiating imports without having to navigate to the "My Stores" page in "Settings".
Note: Order imports run automatically in the background, but if you grow impatient, you can easily run an import quickly.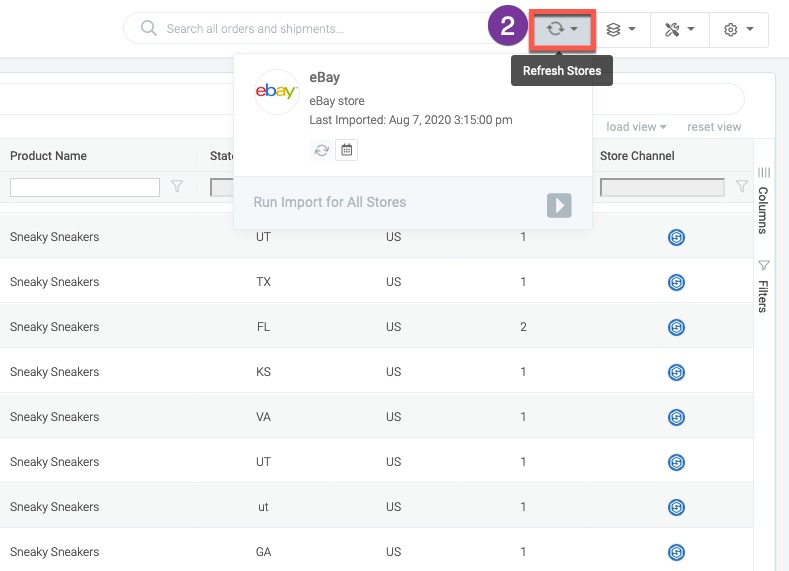 3. Batch Queue
You can easily access recently created "Batches" and utilize different filters to see batches by status, time created, or print status. Look for more "Batch Management" tutorials to learn more.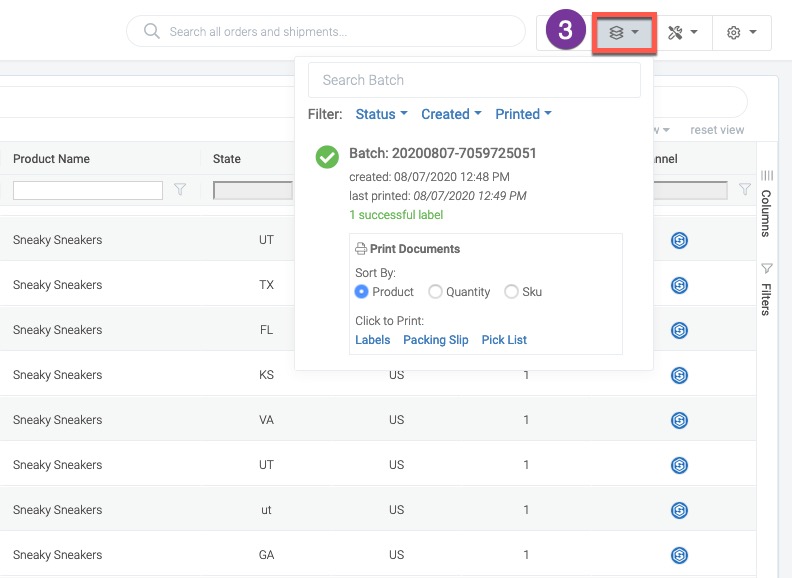 4. Page Tools
For quick access to "Order Tags", "Label Settings", and "Pick List/Packing Slip Settings". Look for more "Page Tools" tutorials to Learn More.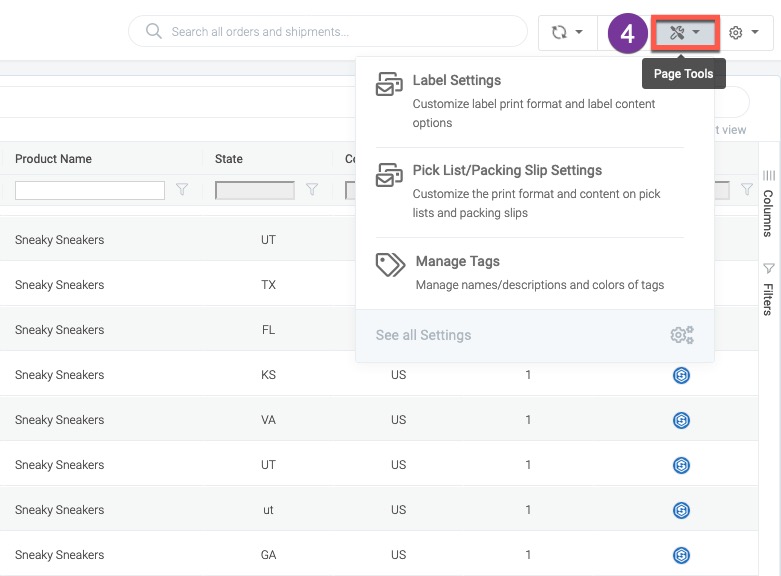 5. Analytics
Click the "Gear" to quickly view how many labels you've created this month, what your meter balance is at, and what you have saved by not waiting in line at the post office.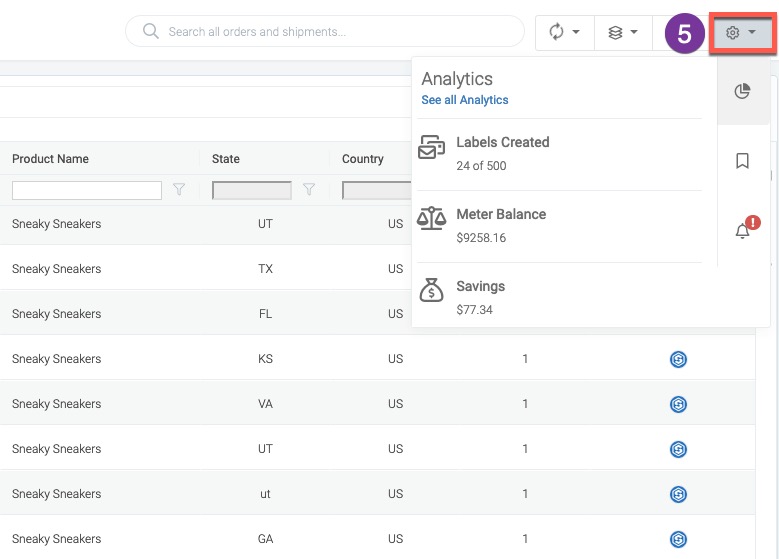 6. Bookmarks
Click the "Bookmarks" icon for quick access to any page you save. Click "Bookmark Page" to save your current page or "Manage Bookmarks" to edit names of ones saved. Once on that page, make sure to "Bookmark" the "Manage Bookmarks" page. "Bookmarks!", " Bookmarks!", "Bookmarks!" Why "Bookmark"? .......................................To save precious time!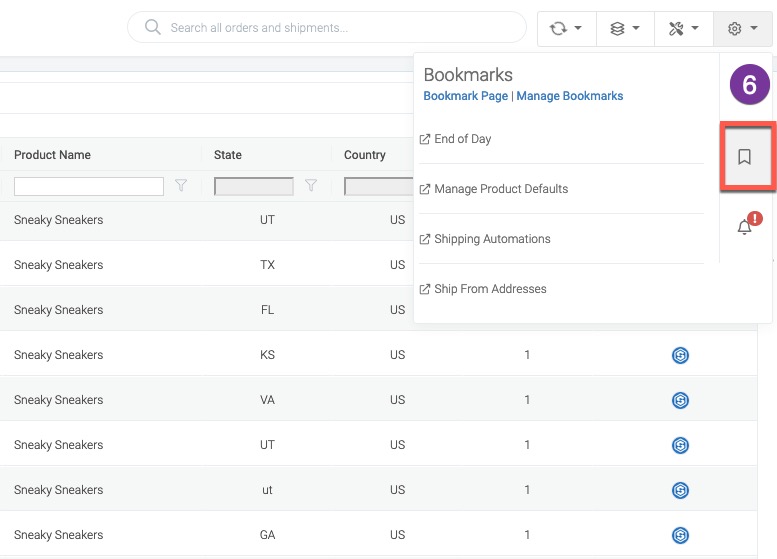 7. Notifications
Click the "Notifications" icon to view any app updates with SmartShyp as we continue to try and be better everyday! We will keep you informed about important app updates, new features, and Industry changes as they come.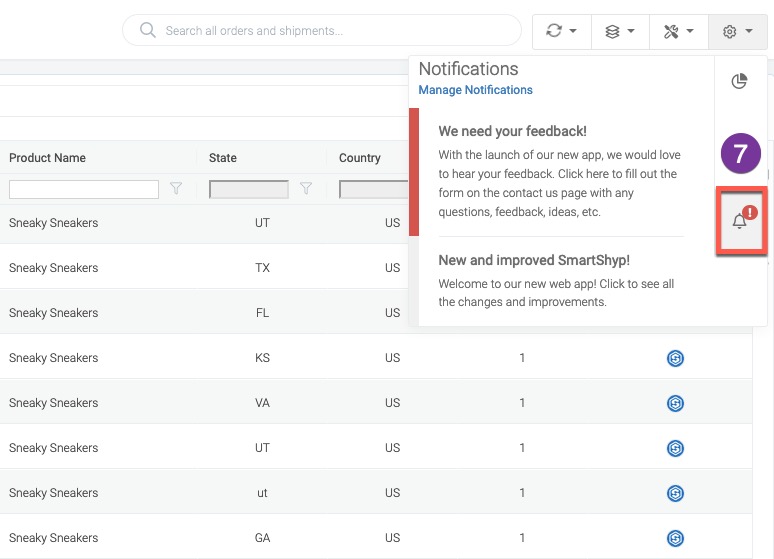 8. Personalize It!
There are various ways you can filter and sort through your orders by adjusting filters, moving columns, and saving your different views so you can easily load them up. You can Learn more in upcoming "Advanced Filtering and sorting" tutorials.

Column Options
You can easily adjust which columns you want to have displayed to more personalize your workflow. These can be adjusted on the right side of the page. Select which columns you would like to view or not view.
Filters
Each column has filter options which make it unbelievably easy to control which orders you want. Play around with different filters and make sure to save views so you can apply filter sets in a jiffy.

Save, Load, and Reset View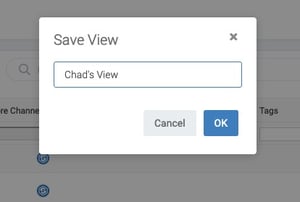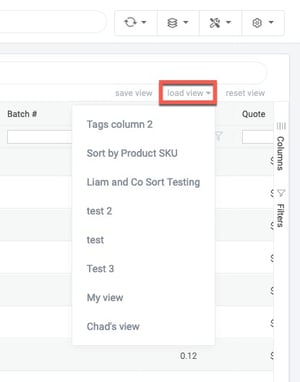 Once you have moved your "Columns" and filtered your "Orders" in a way that fits you, go ahead and save that view so you can load it up at any time, from any where, on any device. Amazing!
If you are having any issues finding orders, or no orders are showing at all. Go ahead and try clicking "Reset View" which will clear any filters and reveal any hidden columns. Then you are able to reload your personalized view while adding new filters as you prepare your next "Batch". Ship Smarter, not Harder!